One of the world's most visited points as well as an ideal place for
tourists, London has a lot to be explored. London is undeniably
the topnotch desired destination for tourists. It is a place that has
four UNESCO world heritage sites. The famous vintage shops of London
contribute significantly to making it one of the most visited sites.
The panoramic views of the whole city certainly catch the
attraction of every tourist. Tourists have a long catalog when it
comes to the best sites to visit in London. From gardens to theme
parks, medieval palaces to historic sites, trails to museums, iconic
landmarks to beautiful restaurants, bars to cafes – London has all
yet the tour remains incomplete if you would not explore the
vintage shops in London.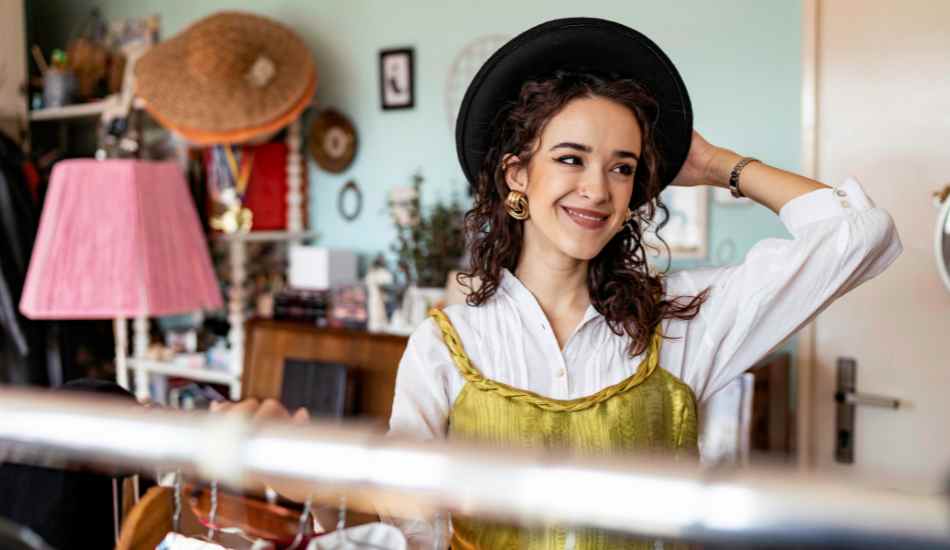 Visiting Vintage Shops
Touring without shopping seems
incomplete and undoubtedly it is! Vintage shops in London are
also must-to-visit sites to have some charm and relaxing joy
during your trip.
If you love to dive into the past look, visiting vintage shops is all
you should do. Shopping from vintage shops does not mean you
have to compromise either on quality or style. Vintage shops in
London offer you sustainable shopping options. Hunt down a
haggle to revitalize your wardrobe the best. Renovate your look
while saving your pocket and time. Vintage shops allow you to
revamp your wardrobe even without new garments, however, to
you and the world, they are new.
Find out the best second-hand
gems without compromising on quality, style, and trends. Working
through all the vintage shops in London is fairly impossible, so, to
make it easier, we have chosen the list of the best vintage shops
to let you enjoy your shopping more. Let's have a look at a few of
London's best vintage shops so you can enjoy the best.
Atika
Whatever you want, you can find it here. Whether you want
gaming or toys, homeware or comics, you can get from here. If
you want stuff for home décor or just want some entertainment
stuff for yourself or your kids, just reach this spot.
Atika is a
vintage shop where you can have a fashion crawl on. It is a two
storey vintage fashion site. This Victorian warehouse has unique
pieces from the 1970s. This collection contains retro sportswear
and denim dreams. Refresh your look as well as your home just
by reaching this amazing spot.
Bridge Portobello
Bridge Portobello is situated within Portobello Road's market. If
you want to grab a look at the past wearing midsommar frocks or
prairie blouses, Bridge Portobello is the right place for you to
reach. A special fact about this perfect feminine site is that it only
serves its customers every Saturday. From 50s florals to milkmaid
maxi dresses, ivory cheesecloth shirts to Intimissimi slip
camisoles – the shop has all to attract a large number of women
towards it. Get a reasonable bargain on purchasing beautiful
items beautifully.
Blackout II
For all vintage clothing and stores, Blackout II is the premier store
in London. From the 1920s to the 1980s, all the real treasures of
this period can be found at this spot. Covering two floors, the
Blackout II stocks a vast clothes collection. Other than a clothing
collection, it also has costume jewelry, shoes, hats, and
handbags. You can easily find all for your event over here. Make
a new look by grabbing the stuff of your choice from clothing to
shoes to handbags.
Beyond Retro
Do you want to be up to trend even when 70s or 80s fashion is
trending in the current times? Then, it is in your hands while in
London. Beyond Retro stands out from the other vintage shops
since it always contains trend-led stock which lets it be so. One of
the best vintage shops in London, Beyond Retro allows you to
keep your fashion sustainability. You can easily find the fashion
stuff that comes back in style, over here.
Crisis
The hub of second-hand yet attractive clothing, Crisis is really a
sustainable option for you if you urge to keep your budget tight.
This hub of fashion sells pre-loved jewelry, high street items, and
high fashion items. During your tour, if you find your budget low
but want to have a look letting you stand out from the crowd,
Crisis is the spot to attain this from. Pick up dresses with
designers' labels at reasonable prices. It serves as the elevator to
let you elevate your dress style and overall look.
Reign Vintage
This vintage shop, Reign Vintage, is located in an amazing
location which makes it a must-visit if you have any plans for
vintage shopping. It is situated right in the heart of Soho, where it
is surrounded by plenty of bars and restaurants. Thus, the
moment you feel tired or want a break, just reach any of the bars
and take off all your tiredness by relaxing for some time over
there. Again, go back to the shop and continue your shopping.
The one-off garments you find here can't be found anywhere else.
Basically, it sells cult high-end streetwear brands and the finest
designer vintage clothing as well. Here, you will surely have a
wonderful shopping experience.
Retro Women
Apparently, a gem, Retro Women, masks some unconventional
pieces. This traditional thrift shop is situated near the Notting Hill
Gate tube station. Missing this shop is really not a wise decision
at all while being in London. Grab all that you want since it offers
you a lot including beaded Prada two-pieces, Balenciaga blazers,
and Jasper Conran jackets, etc. From tops to trousers to tuxedo –
all are up for grabs over here. This chic clothing shop has a vast
collection of women's clothing. Once you reach this shop, you
want to buy all that you have a look at.
House of Vintage
A semi-recent addition to the vintage shops, the House of Vintage
has curated collections of vintage. The collection from the 1920s
to the 80s can easily be found here. Graphic tees galore or
classic cardigans – both plus more are accessible. It has vintage
clothing in abundance, and you can easily get the one of your
choice to revamp your look successfully.
Hunky Dory
Hunky Dory is one of the best vintage shops in London that never
disappoints you if you visit it once. Once you visit it, you will surely
want to visit it again. It is really a site not to miss. A quirky vintage
store, Hunky Dory lets you get whatever you are looking for like a
lovely cardigan or nostalgic vintage frock. The best fact about this
amazing vintage shop is that you will find the trendiest pieces
here, yet they are unique. Its timeless apparel is of the highest
quality.
Paper Dress Vintage
Paper Dress Vintage has pieces sourced from the 1920s to the
80s. This vintage shop is more than just a vintage shop. Inspired
by the rock-and-roll rails, Paper Dress Vintage shop lets you
traverse that time. It is featured with black and white chequered
floors. During the day, enjoy a vintage shopping experience while
at night, enjoy the arts, music, classy cocktails, craft beers, and
outdoor space offered at this venue. Visiting this vintage shop is
completely joyful whether you visit it in the daytime or at night
time.
Retromania
Grab the best vintage dresses at one of the best vintage shops in
London. Must pay this vintage shop a visit if you are or have any
plans to visit London. Just name the thing and you will get it. Yes,
it's possible only here. It has plenty of items including but not
limited to expensive ball gowns, glittering jewels, Hermes scarves,
and psychedelic blouses. Not only this, but it also even has
menswear, hats, bags, memorabilia, and scarves.
Rokit
Having four locations across London, Rokit is really a successful
vintage shop. If you are urged to fill your wardrobe with outfits of
military, sportswear, ski, or now wear, this shop lets you fill it. Sniff
out retro fashions from designers' labels which Rokit has already
sniffed out for its valuable customers. This vintage shop is not to
be missed when you are on a tour of London.
Read also for Quirky Cafes in London